A bedroom's back wall can be customizing to reflect the personality of the owner. By choosing a design that is in line with the individual's interests and style. The room will come to life and feel more like its own space. There are many types of designs that can be employed. So it is important to choose something that will reflect the owner's unique style. From painted walls to eclectic prints, there is a design that will suit everyone's needs. Let's see some Bedroom back wall design idea.
 1. Add an Accent Color – Bedroom back wall design
 Bedroom walls can be a blank canvas for your creative painting or design skills. Start by selecting a color palette and adding accents in different shades and tones. Be sure to vary the amount of each accent to create depth and interest
Some ideas for bedroom accents include:
-Artwork: If you have any decorative artwork or pieces of furniture in your bedroom. Consider using elements from it as accents. Try using brightly colored flowers as a focal point on a bedside table. Incorporating abstract designs into your curtains or bedspread.
-Textiles: Bed sheets, pillowcases, and duvets are all great sources of texture and color; mix patterns together to create something unique. Don't be afraid to go bold with bright prints or bright graphic designs – they can really help set your bedroom apart from the rest!
 2. Design your bed backs with contemporary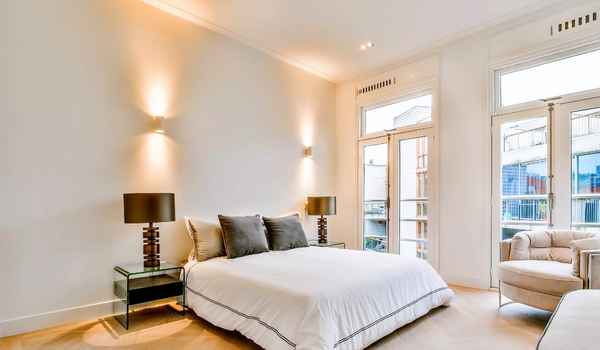 Designing your bedroom back wall can be a fun and creative way to spruce up your space. Contemporary bed backs can be design in a variety of ways, so feel free to mix and match different elements to create the look you want. Some popular contemporary bed back design ideas include using geometric or tribal patterns, adding interesting textures or colors, or using soft lighting to highlight features. Once you have selected the style you want, take into account the other furniture in the room before beginning your project. You don't want any elements to clash while still looking cohesive. If you're not sure where to start, consider consulting with an interior designer or taking some inspiration from popular rooms on Pinterest. Creating a contemporary bedroom back wall is a great way to add personality and color to your room while still keeping it functional.
3. Achieve A Dramatic Look – Bedroom back wall design
 In order to achieve a dramatic look in your bedroom, consider using a wall decor that is both modern and unique. A great way to do this is by using art prints or posters that feature bold colors and interesting patterns. You could also choose to use textures like wood grain or marble to add interest and contrast. When it comes to furniture, be sure to select pieces that are both stylish and comfortable. This will help create an inviting space where you can relax after a long day.
 4. Add A Sense Of Royalty – Bedroom back wall design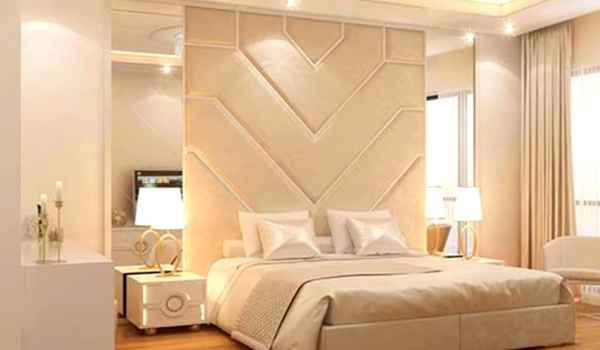 A sense of royalty to your bedroom's back wall design can be done in many ways. One way is to use a color that is associat with royalty, such as purple. Another way to add this effect is to use accessories or items that are typically found in a royal setting, such as a crown or scepter. You could also choose to feature portraits of famous royals or fictional characters who represent royalty. Whatever method you choose, make sure you have a clear vision for how you want your bedroom back wall design to look, and then go ahead and make it happen!
 5. Go For A Rustic Look – Bedroom back wall design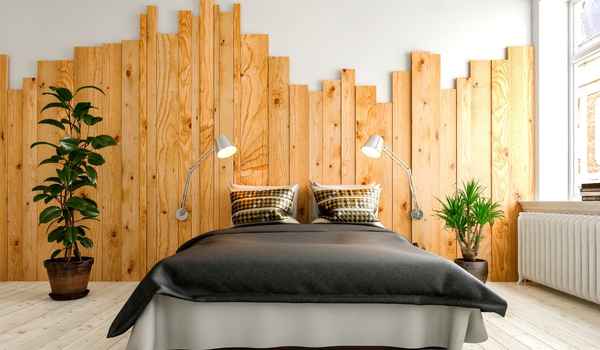 There is something incredibly peaceful and calming about a rustic bedroom. From the earthy tones of the furniture to the natural textures of the walls and floors, this look is perfect for those who seek an escape from everyday life. To achieve this look, start with your bed – choose a simple yet sturdy frame that will work well with any bedding choice. For wall decor, go for pieces that are rustic in nature, like baskets or boards with knots in them. Flooring can be a mix of wood boards and natural fibers, giving the room a tactile feel that is sure to soothe you after a long day.
 6. Art-Inspired Bed Back Wall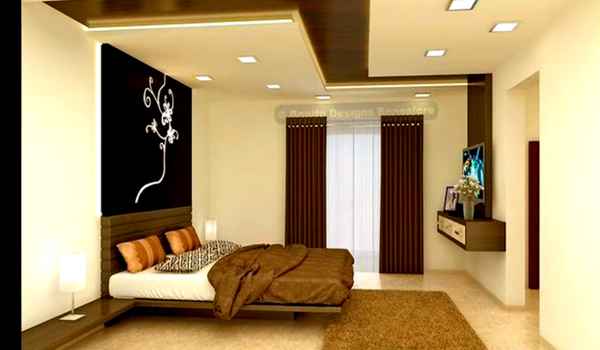 A bedroom back wall can be styling in a variety of ways to match the personality of the individual owner. Contemporary back wall designs can be sleek and modern, while vintage-inspired bed back walls can feature ornate details and patterns. Whatever style you choose, make sure it matches the rest of your bedroom décor.
 7. Use A Statement Art Piece 
Adding a statement art piece to your bedroom can add personality and style to the room. You can find many different styles of art, so it's easy to find something that will fit well with your personal style. There are also many different ways to mount a statement art piece, so you can find one that works best for your space.
8. A handcrafted texture concrete wall should be your first choice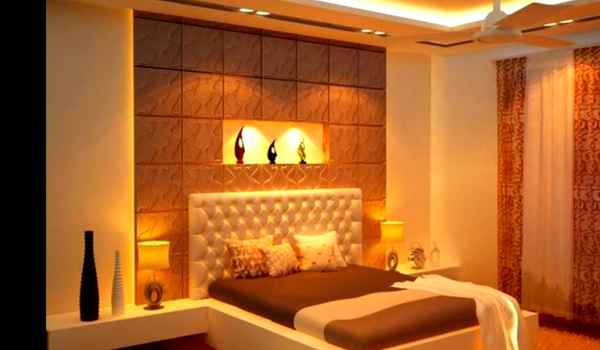 Texture concrete walls can add a unique and special look to any bedroom. They are also a great choice for kids' rooms, as they provide an interesting texture that children may enjoy exploring. Texture concrete walls can be creating in many different ways, including using crushed stone, broken bricks, or even natural textures like moss. Whatever the style of your bedroom, a handcrafted texture concrete wall will be the perfect finishing touch.
9. Layering a material of your choice on your bed back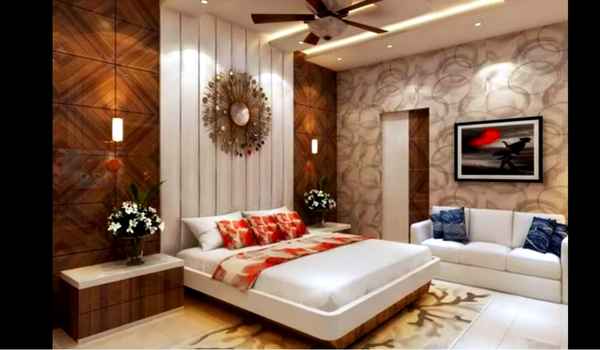 Adding a material of your choice to your bedroom's back wall can add personality and character to your space. When selecting a material, think about what would be the best fit for your room's theme and style.
Some popular materials to consider for a bedroom back wall include wood paneling, reclaimed wood, textured wallpaper, and distressed fabric. When selecting a material, always keep in mind the design of your bed frame and headboard. If you want to coordinate the material with these components, be sure to select a similar color or pattern.
10. Create a bohemian-inspired bedroom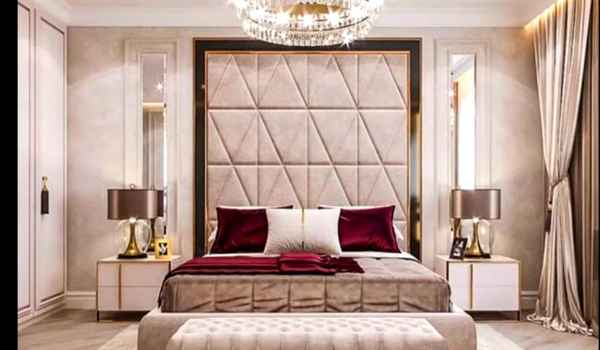 If you're looking for a more bohemian-inspired bedroom. Try including a key feature in the back wall design: a poster or painting. This will add an element of whimsy and excitement to your space, while still keeping it functional. For a truly unique look, consider pairing this feature with eclectic furniture and accessories.
11. Minimalist Design Pattern – Bedroom back wall design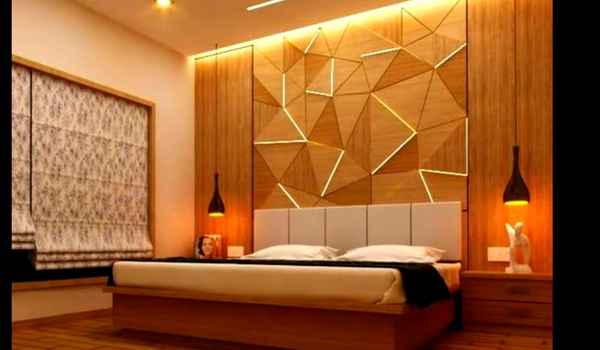 A minimalistic bedroom back wall design can be achieving by using a wallpaper border and contras floor. The wallpaper border should be at least 1 inch wide and the flooring should be a neutral color. The borders of the curtains, valances. and sheets can also be decorating with simple pleats or bows to add visual interest.
 12. Design For A Mood
 A bedroom back wall should be designing with the mood of the room in mind. A cheerful, happy mood will create a more inviting space, while a somber mood can create a more intimate setting. When designing a back wall for a bedroom, consider the colors and patterns that will best suit the atmosphere of the room. Additionally, think about how accessories and furniture can be used to enhance or complete the look of the wall.
Final Thought
The bedroom's back wall design is marvelous. The use of different colors, textures, and patterns creates a unique and stunning look for your bedroom. Whether you prefer a modern or traditional look, this design will be sure to impress. So if you're considering a new bedroom back wall design, don't wait – go ahead and choose something amazing today!